"Planning is bringing the future into the present" – Mike Vance
We are living in very interesting times, one that is filled with opportunities to chart new directions for our businesses. While others worry, here's your chance to make meaningful design changes that will continue to make the work efficient and contribute to the positive patient experience.
Today we list down three important considerations and the strategies you can do to make your Medical interiors ready for the new normal.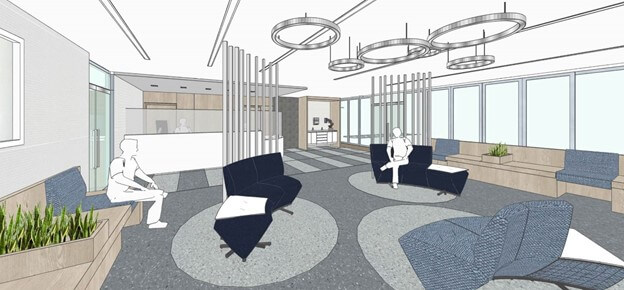 Social Distancing

Physical distancing is the first line of defense against viral transmission. It is pretty straightforward to understand and designing with this in mind is essential as we move forward to the new normal. Strategies like furniture and layout can guide the spacing and mobility of people within a space. Personal, pod-like seating when chosen correctly can complement the aesthetic of a space. Introduce individual seating arrangements from single sofas or chairs that can still be comfortable, and go well with your overall interior design, all while maintaining social distancing within your space. Rethink the layout of your lounges where people traditionally congregate and wait.

One amazing idea is introducing architectural elements like a wall of wood slats to define areas or to limit free movement from one place to another. They can form the backbone of a large open space instead of physically building walls to anchor islands of seating or a sanitation station.

Social distancing may present limitations, yet it presents a great opportunity for us to rethink and reconfigure seating and flow while adapting to the new normal.

Transactions

The space where interaction between staff and patients happen will also need to adjust to the new normal. Innovate and include technology as a part of the transaction process. Think of online documents and forms for data gathering and touchless payment options that reduce physical contact between people. Additionally, you can also introduce a queuing system where patients can wait in their car, and your team can just text them to come in when their appointment is near, so you can minimize the wait time in the lounge area. Tech will always have surprising potential to reinvent how our physical world operates. The solutions and innovations you make today, are an investment for a pandemic-proof future.

Sanitation

There are two things that can improve the sanitation conditions of your Medical interiors, one is the active sanitation protocols you make available for staff and patients, and the built-in architectural finishes or fixtures you employ for every surface. For the active sanitation, a dedicated station for handwashing or multiple disinfection points like those wall-mounted, sensor-activated alcohol dispensers will be indispensable not to mention convenient for everybody.

Material finishes that are durable and can withstand frequent cleaning will be preferred for surfaces we touch. Shy away from fabrics or if you must, select those which are copper-impregnated so it can benefit from its antimicrobial properties. Seamless, health-grade vinyl sheets for the floor and bleachable wall coverings will be ideal and the market is filled with options that do not compromise whatever your design intent.

Technology like UV disinfection whether direct or indirect can be installed at air circulation systems to purify the air or to actively zap pathogens within a space. Some UV technology even promises to deliver a system that can disinfect that is safe while people are present.
This pandemic has brought about so many changes, yet look into the bright side and take this as an opportunity for your Medical Office to rise as well to the occasion and create a Medical space that offers a semblance of normalcy and intentionality. In adjusting your spaces for the new normal, remove any remnants of a temporary fix. Design your environments for a brave new world that is safe, functional, and beautiful. Believe us that it will not only be you but your clients who will appreciate it too. Get in touch with us and we'd be happy to be part of your journey and we wish you great success!