For a free design consultation, send us a message or call us at (310) 359-1200.
The key to building a great medical spa is to have a clear understanding of your brand message along with an open mind in believing that design heals. Brand positioning plays a huge role in medical spa design. Strategically build a core story based on what you want to tell your clients.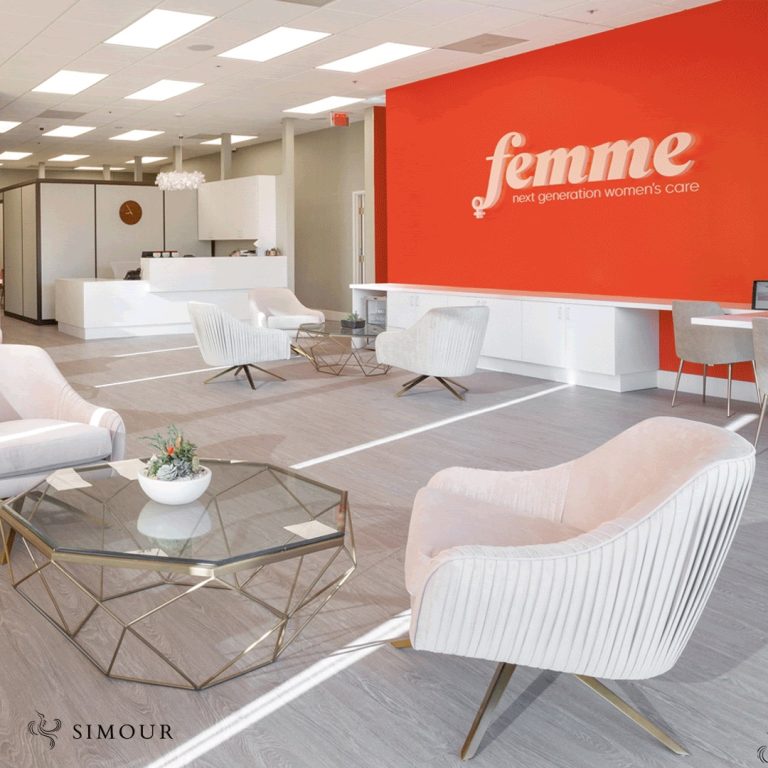 Your Mission & Message
Interior Designers are visual storytellers. In order to give a great design, we need to have the right story to tell. So ask yourself,
"What is your mission?"
"Who's your target market?"
"What will attract them?"
"How do you want them to feel?"
Once you've figured this out, you can easily build your brand message. This determines your budget range, the size of space you need, along with the proper mood to set.
We at Simour Design take great pride in a holistic approach to designing for a medical spa. We strive to work beyond just the aesthetics. Rather, we consider a full sensory experience – one that tickles your sense of sight, touch, hearing, smell and taste. By doing so, senses become alive and are reminded of its innate ability to heal.
Aesthetic
Of course, sight is the most obvious aspect in an aesthetic project. In each of our projects, we like to build a mood board or core story through a carefully curated selection of hues based on color psychology.  This is a study of how color affects a person's disposition. It goes beyond just setting the mood, affecting human behavior as well. Colors such as blue often offers a tranquil and welcoming atmosphere, while red on the other hand encourages passion and energy.
Sensation
As sensual beings, textures has a lot to contribute to the design experience. Surfaces in smooth and silky finishes are quite calm resembling that of a stream while sharp rugged items would say quite the opposite. Texture also adds a great deal of visual interest and balance by adding depth and shadows. This might be a little tricky though since it could either make your space look smaller or bigger if done properly. However, designing  a space is more than just choosing materials like paint, fabric, wallpaper or furniture. There's a whole range of technical considerations behind the scenes. Luckily that's where our knowledge and expertise in understanding ergonomics come in handy. It's also the skill we need to design for the sense of taste and smell.
Acoustic
Much like any traditional spa, great acoustics are highly important. Always remember that soft surfaces absorb sound while smooth and hard finishes reflect it increasing sound levels and echos. If your standard acoustical ceilings & panels don't cut it you can always turn to our ever reliable technological gadgets such as sound masking systems to do the job.
Flow
Ergonomics is the study and process of designing and arranging workspaces s users can interact more efficiently. This is more commonly known as space planning. In space planning, we carefully analyze and plan traffic flow not only to increases productivity but also profitability.
Traffic flow considers not only that of the staff but client as well. We often include beverage counters placed in key areas of a medical spa to enhance the clients experience. Carefully considering when the refreshments should be available for ideal layout placement; what temperature it should be served at for proper refrigeration; along with how convenient it should be to access.
Help?
If all these considerations seem to be overwhelming, we at Simour Design are always here to help. Connect with us at (310) 359-1200 or send us a message. As professionals, it's our responsibility to provide you with a design that not only fits your budget but makes the most out of it as well. Remember to carefully consider the elements we've shared when building your visual core story. Make sure to always consider your clients experience in mind without sacrificing your teams efficiency and you'll definitely be able to build a healing space everyone will love!