Why Optometrists are opting for hospital redesign
Optometry (or primary eye care) involves evaluating a person's vision, and helping them choose the right spectacles, contact lenses and other optical aids. Optometrists need larger operating spaces, and spacious rooms, in order to accommodate their huge machinery.
Many optometrists are found to be moving, upgrading or redesigning their existing offices given the need for more room space. Indeed, more number of optometrists are looking for interior designs for their offices, which help improve overall function and achieve good patient flow. This can be achieved by creating designs that facilitate access to procedure rooms for people accompanying patients, and by facilitating easy movement of patients to each procedure area in succession.
Designing an Optometry office
In Optometry spaces, the idea of redesigning focuses on the proper display of product and merchandising, thereby resulting in an increased patient flow. This will also help increase the overall image of the physician's practice.
The first step in planning an optometric office begins with estimating the size of an office. Experts state that there is a need to minimize flow in case of small office space, since we don't want to waste space; whereas, for a larger office space, there is a need to minimize and also control the flow. Here again, designers stress the importance of good supervision and communication in large offices.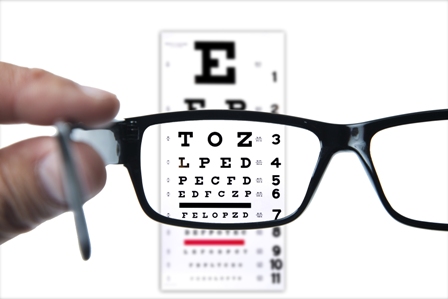 Another major consideration for optometry office is to ensure that the reception area or the waiting room is roomy enough to accommodate people who accompany patients; patients who are waiting for their consultation. Sometimes patients waiting for pupil dilation may have to be kept waiting in the same area unless there is an alternative. The reception area should also enclose ample space for the staff to move freely within the office premises.
Similarly, comfortable examination rooms with seating areas for people accompanying the patients; more number of pre-test and special procedure rooms with access to sinks; and an independent optical dispensing area within the clinic premises are some of the most important considerations while designing optometry health spaces.
Further, interior designers tend to allocate specific stations for the purpose of fitting and ordering frames & lenses, coupled with separate stations for picking up & adjusting glasses so as to create a non-obstructive path for the patients to wander comfortably, as well as to help maximize staff efficiency. Meanwhile, adequate space should be allocated around the shelves displaying frames, along with access to multiple mirrors, so that patients can freely browse and try on frames from the display.
When it comes to seating arrangement in the waiting area, most expert designers suggest the use of individual chairs since they consume more space. This can be attributed to the fact that benches and couches are comfortable seating options for only families; whereas, individuals do not tend to sit in couches, beside people they are not much familiar with.
Likewise, designers prefer to allocate dedicated check-out areas, which are not near check-in areas, so that patients get enough privacy to discus about payments and other financials with the family or friends, who accompany them.
Additionally, lighting and other design elements also play a major role in enhancing the overall 'look and feel' of a well-designed optometry space. They help distinguish several areas of the facility and also contribute to delivering a hospitable and affirmative patient experience.
Moreover, redesigning or remodeling an optometry office aims at office growth, which is more crucial for staff's career development and a physician's business expansion. A sophisticated and well-designed clinical can not only increase the optometrists' earning potential, but also contribute to a growing job satisfaction.
Source: Interior Design Pro, Optometric Management