"Glamour is back, but with a minimalist touch." – Gianni Versace
Plastic Surgery offices are designing for wellness, well-being, beauty, and self-appreciation. It goes beyond medical needs because it also needs to create a self-affirming space where patients can be confident about their physicality and mirror their same aspirations for beauty – architecturally.
One office done by SIMOUR Design – Dr. J Plastic Surgery is a trove of fantastic design ideas that can teach lessons to create that high performing, high style Medical spaces of your own.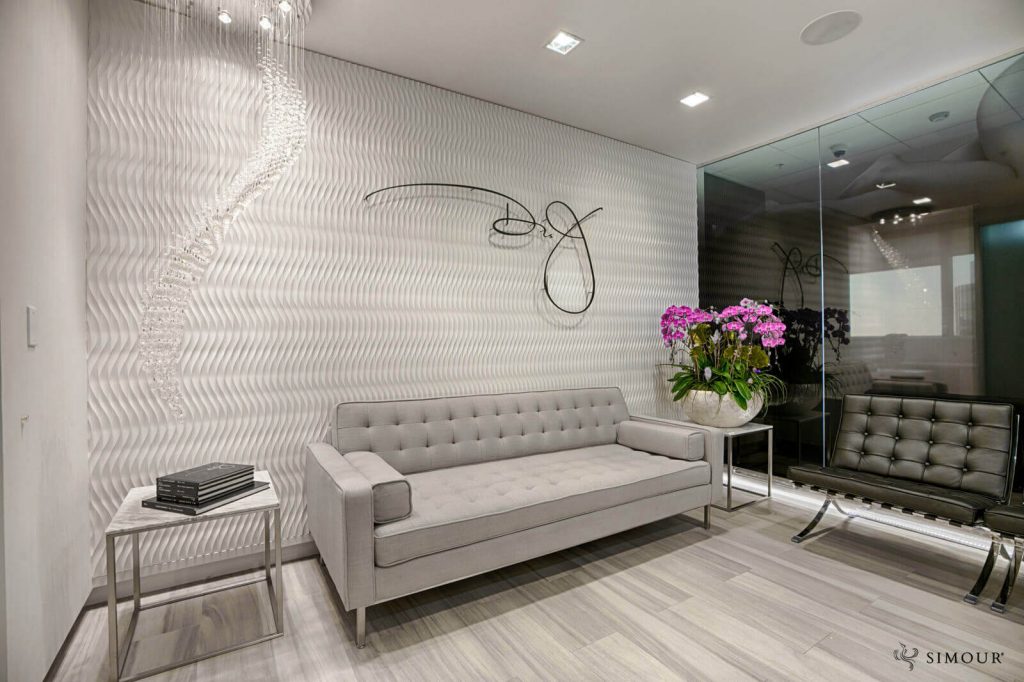 Turn on the glam. Whatever size your office is, there will always be opportunities for these glamorous touches that enrich the experience of your reception area. The low ceiling didn't stop us from installing a chandelier fixture at the corner of the space, the key is choosing the right fixture. Fresh blooms like exotic orchids at the side table are pops of freshness and color in the largely white interiors.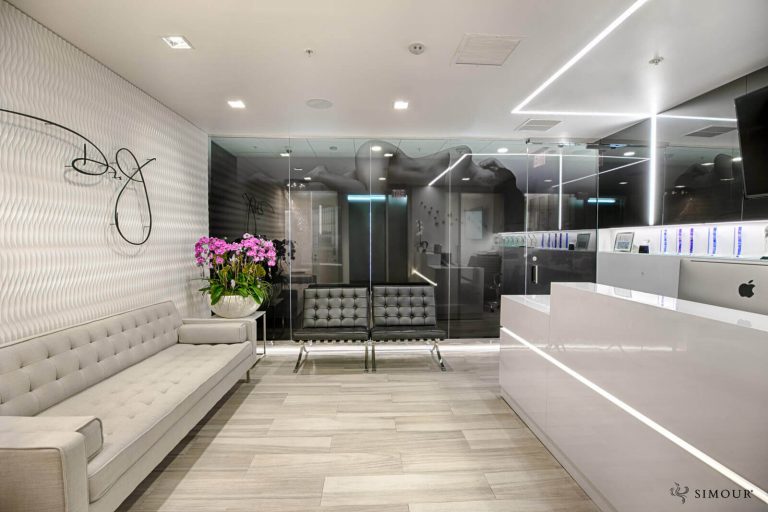 Reception Desk as Focal Point. Think of the reception area as an opportunity to set the tone for the patient experience and one that needs to fulfill a lot of functions essential to the effective operations of the office. Using mirrors is always a good idea to expand the appreciation of the space. Building a display alcove inside the wall keeps the lines clean and uncluttered. Creative lighting here is meant to define the area from the rest of the waiting area and provides the general illumination needed. Splitting the reception desk levels accommodates people in wheelchairs as well as standing clients.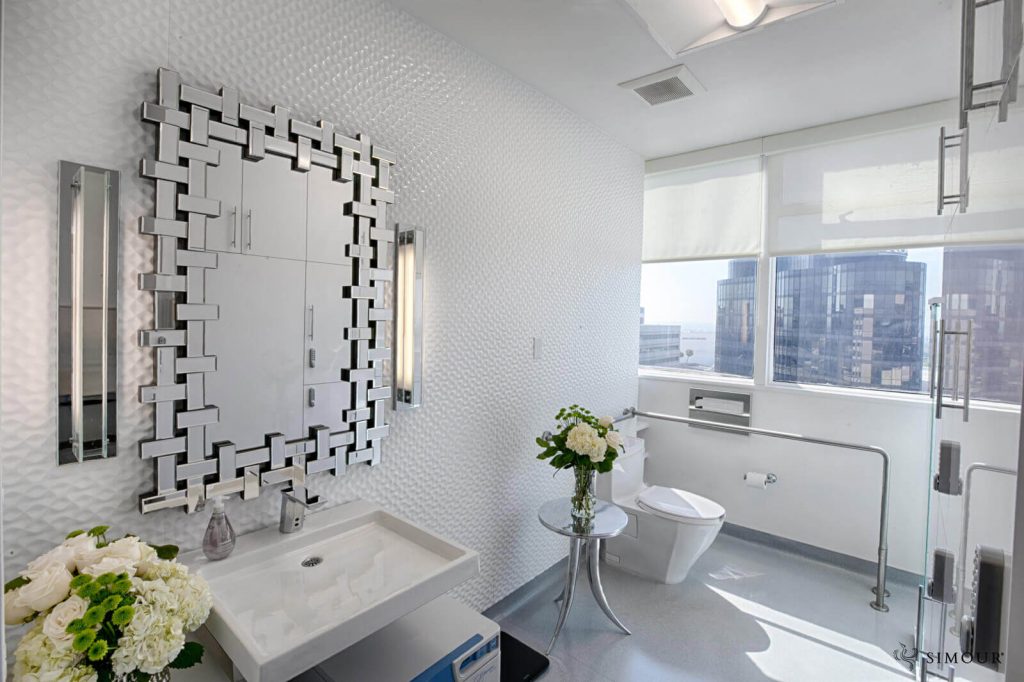 Restful restrooms. Always remember the restrooms because your clients will. Extend the same design you lavish on the public areas of your Medical space into the restrooms, they are spaces that can often be overlooked but it makes all the difference in spelling a positive patient experience. A distinctive mirror and complementing wall sconce can make the restroom more luxurious. Keep it well-appointed, always stocked with toilet paper, hand soap, and disinfectant. Fresh foliage or flowers is a nice touch that brings in a bit of nature into the space.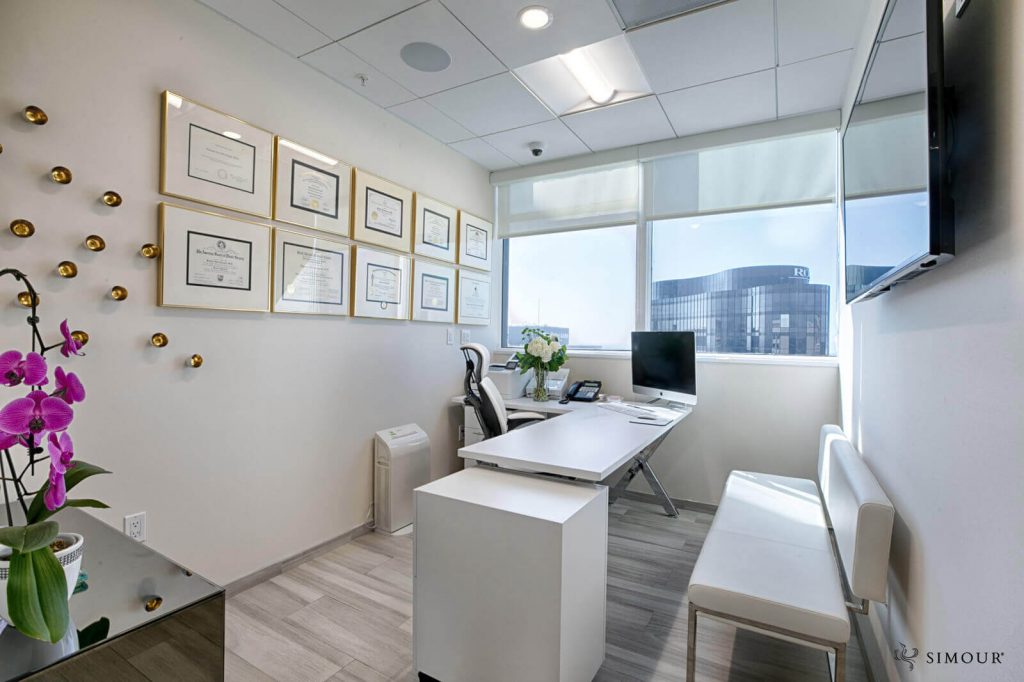 Reorient your furniture. Play around with your furniture so that you can arrive at more unique arrangements like the space pictured above. Instead of having the desk separate spaces front and back, laying it down lengthwise along the room creates a more open and transparent space, with both the doctor and the patient having access to the windows. Breaking traditional office layouts is the first step to creating unique spatial configurations that maximize your office floor to the fullest.
Bring the outside in. There's something truly invigorating in having magnificent views into the outside and being bathed in tons of natural light. Bringing these elements into your operating rooms can create that Biophilic reaction to nature that can improve patient experience and outcomes.
The design ideas we featured here are mostly about being intentional about your design decisions taking into consideration what your clients expect and how you can make full use of your space effectively. Put yourself in your client shoes and align with what their experience will be like to get insights that matter in improving your space. Let SIMOUR Design help you elevate your Medical Spa by giving us a call right now at (310) 3591200 or drop a consultation request here. We wish you great success and hope that we can work together on your Medical journey.